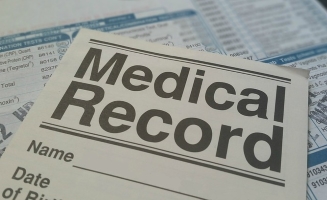 Health Care
Filing and Retrieving Patient Records
You have patients standing at the sign-in window and three phone lines ringing. The doctor needs the chart for Sue Brown, who is awaiting her turn to be examined. (About time, since this is her first visit in more than five years.) The pharmacy is holding on Line One to get approval for a prescription refill and there are thirty-two emails, more than half of them delivering lab results. Who has time to transfer those results to charts? And where are those charts, in the office or stored off-site? And will someone get those phones!
A medical practice–whether it be a doctor's office, clinic or hospital–often resembles the eye of a hurricane: constant motion, high stress, a jumble of charts and assorted documents that must be filed, searched, found. The file room is not your friend.
Imagine being able to retrieve a patient's medical records, a chart entry or a legal contract signed years earlier, all in a matter of seconds. Whether you need that document or it must be accessed through remote access by doctors and/or authorized hospital staff during an emergency, Recollect guarantees that it's found in seconds. No matter where it's stored. Recollect makes it easy to scan and store Patient Charts in the same way they are stored in the physical world: with Folders and Tabs. Your entire medical practice, every hospital document, backed up and safe on External Hard Disks or USB or CD- ROM/DVD.
Browse all Industries
Legal: Filing and Retrieving Contracts and Depositions
Financial: Filing and Retrieving Invoice and Purchase Orders
Manufacturing: Filing and Retrieving Service Manuals
Education: Filing and Retrieving Student Records
Bound documents lost in the shuffle
Recollect is the solution, pure and simple
Health Care: Filing and Retrieving Patient Charts
Example: The doctor is examining Sue Brown and needs to refer back to notes taken about a pre-existing condition. The problem is, the patient's name has been entered as Sue Trown and a frantic call to search the files results in nothing. Imagine typing in the name Sue Brown and immediately seeing the images of every record bearing names that come close? Choose the right name and the information is there. If you need to fax, email, print or save all or part of that patient's record, Recollect does that as well. No bulky charts to carry around or loose papers that can be incorrectly filed. And no concerns about remembering where a chart is stored.
Example: A prescription request arrives from a Pharmacy and the patient's chart has to be found. With Recollect, any authorized staff member can view the approval document electronically and give immediate authorization to the pharmacy by sending a fax. That means no need to search for the paper chart, no need to print and fax. The same applies to medical record release requests. Whether the request is made by phone or fax, authorized staff members can find, view and fax the information electronically, and in seconds instead of hours. They can also scan and file the authorization request fax along with the rest of the patient's chart.
Example: Your office procedures fall under very specific Regulation and Auditing standards. With Recollect, all of your patient chart activities can be logged and monitored to meet these standards. When required, an activity report can be generated and printed with just a touch of a button. Furthermore, Recollect assists in satisfying HIPAA compliance requirements.